For the past 17 years, the Writers' Group has had the privilege of participating in the dialogue on health and wellness, working on more than 40 books on related topics. Many of our clients have used publishing as a way to reach a broader audience, grow their practice, and share their vision.
Clients and coauthors in the fields of health and wellness have included academics, architects, consultants, health coaches, information specialists, nurses, nutritionists, physicians, physiologists, and program planners.
Projects Completed
• Articles for consumers
• Manuscript evaluations, book proposals, books
• Research and analysis, information design
• White papers, special reports
• Web content, website evaluation, blogs
• Teleseminars
Selected Books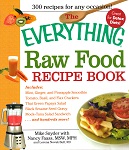 The Book – Michael Snyder, Nancy Faass, and Lorena Novak-Bull. The Raw Food Recipe Book. Adams Media, 2009.
Services Provided – Project development, writing, editing
The Project – The author had a plethora of recipes, and wanted to organize his material within the format used for this popular series. The next step was to write an introduction that reflected his fresh perspective. To complete the book within the tight deadline, recipe testing also became a shared task. Our editor tested about 90 of the 300 recipes, and then formatted them for easy preparation.
Reader Reviews – "I have been dabbling here and there with a raw food lifestyle and I bought a stack of books to get me started. By far this book is the easiest to follow, most colorful, and they have great recipes that have turned out exactly as explained." Reviewer from St. Louis "Excellent cookbook." Reviewer from New Jersey "Great cookbook!" Reviewer from Canada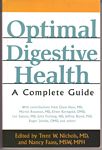 The Book – Optimal Digestive Health: A Complete Guide. Trent Nichols, MD, and Nancy Faass, eds. Healing Arts, 2005. (Second edition—One Spirit Book Club Selection; First edition—Harper/Quill, 1999, two printings).
Services Provided – Project development and management, writing, editing for two editions
The Project – For this book, we initially brought together 25 contributors and coauthored more than 600 pages of content. The goal of the project was to present a huge amount of leading-edge information in a highly readable format—one that consumers could skim to find the information they were seeking. It was also important to address these delicate topics with tact. Over the past 12 years, the book has been released in two editions, gone through three printings, and sold more than 20,000 copies.
Reader Reviews – "I read without stopping for about three hours after opening the book…" Health professional from Los Angeles
"Of all of the books I have read to try to understand food sensitivities (which is about 15 by now) this one is the best. I have more faith in this one because it is written by doctors. But I could understand most of it." Reviewer from the San Francisco Bay Area, CA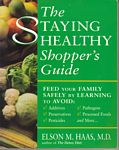 The Book – The Staying Healthy Shopper's Guide. Elson Haas, MD. Celestial Arts Press, 1999.
Services Provided – Writing support
The Project – To develop the opening chapter, the author provided a wonderful interview explaining how he first began coaching patients on healthier nutrition, and how that forever changed his medical practice. Additional content was also developed by interview, and then shaped to the focus of each specific chapter.
Reader Review – "If you're trying to eat healthy and want to start buying organic foods, this is an excellent book to buy to begin your journey. " Reviewer from Michigan
Our Commitment to Your Success

We are absolutely committed to the success of every author. This is a core value of everyone on the team and of the affiliates and subcontractors with whom we work.
At the end of the day, you want to know that your book is true to your vision, and that it is the very best that it can be. We would be honored to be part of your success.
"Writers' Group developed the proposal for my new health book in just three weeks. It was purchased for a substantial sum by our first-choice publisher."
J. Michael Menke, PhD, DC, University of Arizona